Turn on suggestions
Auto-suggest helps you quickly narrow down your search results by suggesting possible matches as you type.
Showing results for 
This week's blog is probably quite timely as gaming features quite prominently in quite a few areas at the moment which we'll cover off. So, gaming, brief intro first, our traffic management systems are designed to identfiy known gaming traffic and give it the highest priority on our network. This means that firstly at the busiest times of day gaming traffic is unaffected and even when the network is running at full capacity game pings will still be low. It also gives that level of Quality of Service so that if more than one person is using the connection another person using the connection will see that their gaming traffic again is unaffected. We identify gaming traffic by matching the traffic against a database of signatures. These signatures work in different ways depending on each game or type of traffic. They will use a combination of the IP address the game is played on (for example for a game like World of Warcraft where it's played on a set of central servers operated by the game company), by looking at the ports used or by analysing the traffic using deep packet inspection to see what type it is. Some gaming traffic may not get picked up correctly, often this is down to one of two reasons. Either we don't have a signature for that particular game or it's being played on a non-standard port that we don't check for that game. As new games are released we will add them to the traffic management database; we are trying to be more proactive with this and add games before release date, on the Community Site forums we have an event calendar for adding details of game releases as well as other things and with our own game servers we've been installing new games in beta format and thus being able to include them ahead of time. We've populated some of the big upcoming releases that we know about like Unreal Tournament 3, Mario Kart Wii (date TBC but could be a massive game for the Wii) and Football Manager 2008. We've also set up a forum so that customers can let us know of upcoming events which we can then add to the calendar. The more things we are tracking the better. We can also use the forum to gather feedback on and track what impact different events had. Whilst a little off topic for this post the recent England football games provided a very different look at how people use the Internet. The Saturday game we saw very little if any impact at all from the game, Saturdays are evenings generally the quietest of the week, but Saturday afternoon quite busy. We probably saw a little more gold traffic before the game than normal and a little less during. Whereas the Wednesday afternoon game we saw a fair spike in traffic to the BBC for the first half of the game

people listening on Five Live, which tailed off during the second half, a lot of that traffic was probably people listening at work and leaving at half time and then listening to the second half in the car on the way home. We also saw a big increase in UDP traffic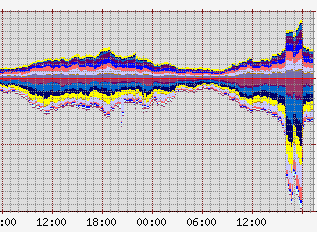 you can clearly see each half of the game, which will be from people finding a video stream of the game to watch. As I say if people are interested I'll post a few more of these for different events so you can see what kind of impact they have on the platform. Back to topic to gaming, we've also recently begun offering a new product - BBYW Pro. This product has been designed with gaming in mind from the start. The key differentiator from a gamer's perspective is that on BBYW Pro the unidentified traffic, like games not running on the default port, gets classified as gold traffic. On all of our other products (apart from our old PAYG account) this traffic classed as silver. At busy times of the day silver traffic can see a reduction in speed and an increase in ping times, but only at the very busiest times will gold traffic see an increase in latency. Of interest from a traffic management perspective as mentioned earlier is the release schedule of new games. A few weeks ago Halo 3 came out on the Xbox 360. That night and the following night we saw a noticeable increase in Xbox Live traffic from lots of people playing it online during the first day or two. After about 3 days the traffic went back to normal but being able to predict these types of patterns better can only help in managing the platform. It's tough to judge how many people were playing Halo 3 specifically but you can imagine if the signature wasn't already in place our support team would have had a lot of calls and tickets over those couple of days. Another recent release was The Orange Box. This game was first released as a download via Steam (a digital distribution system). A retail boxed version is also available. Again for a few days after the release we saw an increase in the amount of gaming traffic, mainly from people downloading the game, but there will also be some from people playing the game online. Team Fortress 2 is one of the games we have on our game servers, details are listed here for anyone who wants to play. And whilst this blog may be a little too late to drum up any more interest, this Saturday we're having a LAN party in our Sheffield offices. None of the games seem to be Mac friendly though and my PC has a faulty motherboard so if anyone wants a game of poker on the side I may turn up with a deck of cards. An interesting suggestion from Electronic Arts, there's an article on the BBC here, calling for an open, standard platform for gaming. From many perspectives this sounds like a very good idea. From the gamers' point of view a single console or set top box instead of a PS3, a Wii and an Xbox 360 could mean potentially less expense if they would buy more than one console. Plus they'd have more choice of games because there aren't games that are exclusive to just one system. For someone that likes racing games when they come out if you want Mario Kart you'll need a Wii but need a PS3 for Gran Turismo 5. Roughly a £500 spend for two games. From our perspective it could potentially be much easier in terms of traffic management. Right now we have a set of rules for the Xbox 360, a set of rules of rules for Wii games, a set of rules for PS3 games and a whole host of rules for PC games. The console rules are generally simpler than the PC games; most console games are played on a set of central servers such as Xbox Live and the traffic uses similar sets of ports or can be picked up by the same signatures regardless of the game played. We find the same with some PC games where one signature can cover more than one game but that's generally few and far between. Most of the time we don't have to worry about new games for the Xbox 360 and PS3 (Wii's a little different because of the lack of many online games so far) because most of the time we know that the traffic will get picked up by the existing rules. Going back to Halo 3, a few of our customers had tested out the beta release a few weeks before it came out. We made sure to speak to them about it and would have worked with them if necessary had they had any problems so that the rules would be in place for launch day. Fortunately like most Xbox 360 games as I say it was picked up straight away. If there was a single gaming platform then pretty much every game would be this simple. Feel free though to discuss this on our Community Site forums and if anyone has any suggestions for future topics then please let me know. Dave Tomlinson PlusNet Product Team
You must be a registered user to add a comment here. If you've already registered, please log in. If you haven't registered yet, please register and log in.