Turn on suggestions
Auto-suggest helps you quickly narrow down your search results by suggesting possible matches as you type.
Showing results for 
Topic Options
Mark Topic as New

Mark Topic as Read

Float this Topic for Current User

Bookmark

Subscribe
Hiijinx
Dabbler
Hello all,
Have posted this on the Everquest 2 forums as well but just in case some bright spark here has an idea of what is going on.
For those who don't know, Everquest 2 is a MMO game with MANY different zones/levels in which you need to load in and out of, its a huge game. Very similar to World of Warcraft.
Whenever I try to change zones, it will hang on "connecting to zone server" before it boots me out to the character select screen and refuse to allow me to re enter the game until I have restarted it.
I have been monitoring the active connections when playing and have noticed that something seems to be happening at around 4 minutes after entering the game which I cannot explain.
Screenshots below show what I mean.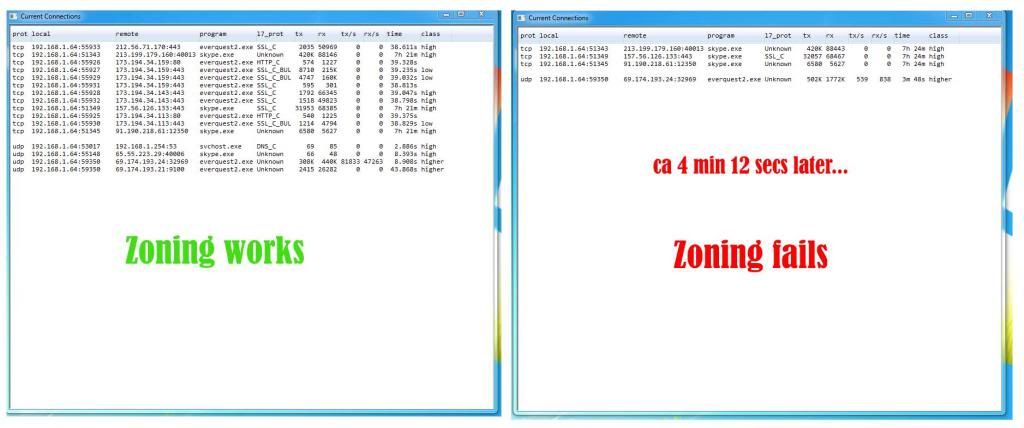 Within the first few minutes of entering the game (while those extra connections are active) I can change zones perfectly fine, however, once they disappear (at about 4 minutes) I cannot.
Have tried opening ports which Sony recommend, disabling firewall completely, antivirus etc but still have the same problem.
I am a returning player and have never had this issue before, the only difference is my ISP (Bethere to Plusnet) - I have heard similar games having issues with the dynamic IP changing midway through the game which in turn causes issues as the game can't seem to refresh your connection, but since my last provider was also a dynamic, cannot see why this should be the problem. Does it even change that often? (4 mins)
Any help welcome
Thanks in advance,
Hiijinx
Edit: Additional info
Trace of the everquest server
Quote
Tracing route to amseq2-03-01.everquest2.com [69.174.193.21]
over a maximum of 30 hops:
1 65 ms 99 ms 99 ms dsldevice.lan [192.168.1.254]
2 21 ms 17 ms 16 ms lo0-central10.pcl-ag05.plus.net [195.166.128.186
]
3 17 ms 16 ms 16 ms link-b-central10.pcl-gw02.plus.net [212.159.2.17
8]
4 17 ms 16 ms 16 ms xe-1-2-0.pcl-cr02.plus.net [212.159.0.210]
5 16 ms 19 ms 16 ms ae1.ptw-cr02.plus.net [195.166.129.2]
6 21 ms 23 ms 23 ms 195.99.126.182
7 25 ms 23 ms 23 ms core1-te0-8-0-3.faraday.ukcore.bt.net [109.159.2
55.108]
8 17 ms 17 ms 18 ms host213-121-193-97.ukcore.bt.net [213.121.193.97
]
9 * * * Request timed out.
10 56 ms 109 ms 24 ms 32.119.116.22
11 * * * Request timed out.
12 24 ms 24 ms 24 ms mdf002c7613r0003-tge-10-1.ams1.attens.net [32.42
.0.170]
13 24 ms 24 ms 24 ms vl50.amsixmsfc-1.sonyonline.net [195.33.129.76]
14 24 ms 24 ms 24 ms amseq2-03-01.everquest2.com [69.174.193.21]
Trace complete.
Router Firewall log
Quote
Warning Dec 31 16:44:10 IDS proto parser : tcp null port (1 of 1) : xxxxxxxxx TCP 0->63748 [..AR..] seq 0 ack 838270934 win 0

Error Dec 31 16:37:24 FIREWALL replay check (1 of 5): Protocol: ICMP Src ip: 91.190.218.17 Dst ip: xxxxx Type: Destination Unreachable Code: Port Unreacheable

Error Dec 31 16:35:33 FIREWALL replay check (1 of 5): Protocol: ICMP Src ip: 38.108.74.245 Dst ip: xxxxx Type: Destination Unreachable Code: Port Unreacheable

Error Dec 31 16:34:39 FIREWALL icmp check (1 of 1): Protocol: ICMP Src ip: 86.14.252.9 Dst ip: xxxxxType: Destination Unreachable Code: Host Unreacheable

Error Dec 31 16:34:32 FIREWALL replay check (1 of 1): Protocol: ICMP Src ip: 86.14.252.9 Dst ip: xxxxx Type: Destination Unreachable Code: Host Unreacheable

Error Dec 31 16:32:42 FIREWALL replay check (1 of 1): Protocol: ICMP Src ip: 64.79.157.78 Dst ip: xxxxx Type: Destination Unreachable Code: Communication Administratively Prohibited
Topic Options
Mark Topic as New

Mark Topic as Read

Float this Topic for Current User

Bookmark

Subscribe