turn on suggestions
Auto-suggest helps you quickly narrow down your search results by suggesting possible matches as you type.
Showing results for 
Topic Options
Mark Topic as New

Mark Topic as Read

Float this Topic for Current User

Bookmark

Subscribe
AlaricAdair
Community Veteran
I was working on our orchard site today burning the thorn branches which are left over in heaps from the hedge laying process. As an "accelerant" for the fires I have a 5 gallon jerrycan containing red diesel. The fuel was from a friendly trade with the neighbouring farmer. I know I've had this jerrycan for many years where it was used to carry standby fuel for the many vehicles we've possessed, but the real shocker was when I noticed the date of manufacture on the can. It was 1958 for the MOD.
Does anyone else have an old favourite tool?
The other is a serrated edge Kitchen Devil vegetable knife which I purchased over 40 years ago and it is still in daily use.
Now Zen, but a +Net residue.
8 REPLIES
Highlighted
journeys
Community Veteran
petlew
Community Veteran
Although I hardly use it nowadays, I have a Moore & Wright 1 inch micrometer (the one with the cutaway frame and vernier scale) that I bought as an apprentice toolmaker when I was seventeen, fifty-one years ago. Like this one
http://www.ebay.co.uk/itm/MOORE-WRIGHT-IMPERIAL-MICROMETER-0-1-No-961-BOXED-/231171336934?pt=UK_Meas...
Was very proud of that at the time. Cost an arm and a leg at that time.
We used to make all our own hand tools: screwdrivers, centre punches, pin-punches and cold chisels etc. We needed a very long reach 1/4inch flat screwdriver for a specific job <around 18inches long> that I made and still have.
Experience; is something you gain, just after you needed it most.

When faced with two choices, simply toss a coin. It works not because it settles the question for you. But because in that brief moment while the coin is in the air. You suddenly know what you are hoping for.
TORPC
Grafter
I have a couple of old wooden spirit levels that was my grandfathers, which I use
Don't know how old they are
I still have the flat head screwdriver I made in metalwork in school 1982, which I still use
shutter
Community Veteran
Strat
Moderator
I have an old lead dresser used in my plumbing days.
I inherited it from the old plumber I used to work with and he, in turn had inherited it from his master during his apprentice days.
No idea how old it is or what wood it's made from and it has a few dints in it but it still does it's job.
Something like this....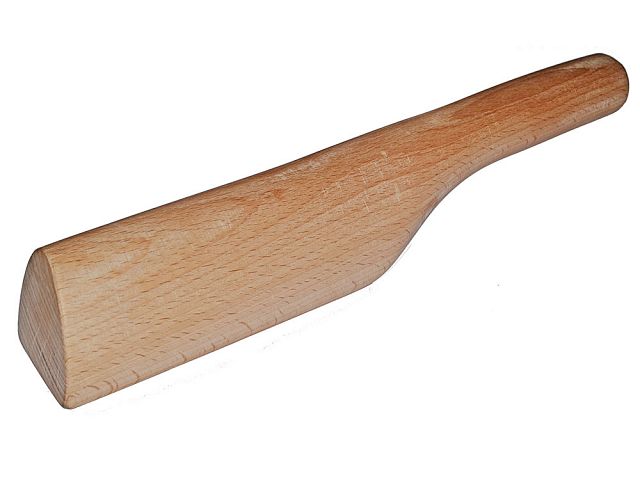 Customer and Forum Moderator. Windows 10 Firefox 64.0 (64-bit)
Quote from: AlaricAdair
Does anyone else have an old favourite tool?

I have plenty of favourite / trusty / reliable tools but none of them are old!
The only one that might qualify is my ratchet screwdriver. Had it for over 20 years but last summer it partially gave up the ghost. It still works but just not on anything thats too tight: Doesn't help that I trod on the round metal barrel that covers all the parts while I was looking for a bit that sprung out
I'll have to dismantle it again when I next see it and see if I can breathe new life into it.
Oh and my hammer.. only 10 or so years old but what a marvellous invention of man kind! If at first it won't do nowt, grab the hammer and bash it about!
I need a new signature... i'm bored of the old one!
Mav
Moderator
I have some power tools that are over 20 years old and still work well.
Strangely when I was younger my dad's tools that were probably a lot younger than mine are now seemed ancient - more than 15 years seemed like a lifetime. Now 20 years just doesn't seem to be that long.
Is that because I am older or because we started a new century stating at 00 again
Forum Moderator and Customer
Courage is resistance to fear, mastery of fear, not absence of fear - Mark Twain
He who feared he would not succeed sat still
Quote from: Mav
Now 20 years just doesn't seem to be that long.

Er yeah I know that feeling very well lol
I need a new signature... i'm bored of the old one!
Topic Options
Mark Topic as New

Mark Topic as Read

Float this Topic for Current User

Bookmark

Subscribe