Turn on suggestions
Auto-suggest helps you quickly narrow down your search results by suggesting possible matches as you type.
Showing results for 
Topic Options
Mark Topic as New

Mark Topic as Read

Float this Topic for Current User

Bookmark

Subscribe
eattheword
Grafter
I upgraded from ADSL to fibre four weeks ago, but I am getting disappointing speeds. I ordered the 40 Mbps package, and the Member Centre info shows:
Telephone number:
XXXXXXXXX
Phone exchange:
XXXXXXXXX
Estimated line speed:
40Mb (Download speed could vary depending on line conditions. Estimates are the maximum speeds that your phone line can support. These speeds are dependent on the package you choose.) - Checked on 2014-09-16 20:13:36
Current line speed:
40 Mb
On installation day, the Openreach technician who installed the new master socket faceplate confirmed that my line was sync'ing at 79 Mbps.
Since that day I have not managed to get download speeds greater than 25 Mbps which is quite a bit under the 40 or so I should be getting. Sometimes it drops to as low as 7.5 Mbps. Uploads are more consistent ranging from around 13 Mbps to 18 Mbps.
I have run a batch of tests today so that I can provide you will full information. My setup rig is as follows:
1. Plusnet-supplied modem plugged into master phone socket via the supplied DSL cable into the socket at the front of the BT socket.
2. Plusnet-supplied Technicolor router plugged into modem.
3. Computer plugged into router via ethernet cable and WiFi switched off on the router.
TESTING
------------
1. I visited the BT Wholesale Speedtest site and ran its initial tests which gave me my usual results of around 25 down/18 up speeds.
2 I then logged my router into the BT test site with the username speedtest@speedtest_domain and ran their level 3 diagnostics which gave the following results:

1. Best Effort Test:  -provides background information.
Download Speed
67.35 Mbps
 
0 Mbps
77.44 Mbps
Max Achievable Speed
 Download speedachieved during the test was - 67.35 Mbps
 For your connection, the acceptable range of speedsis 60 Mbps-77.44 Mbps .
 Additional Information:
 IP Profile for your line is - 77.44 Mbps
2. Upstream Test:  -provides background information.

Upload Speed
2.6 Mbps
 
0 Mbps
20 Mbps
Max Achievable Speed
Upload speed achieved during the test was - 2.6Mbps
 Additional Information:
 Upstream Rate IP profile on your line is - 20 Mbps

Your service was found to be performing poorly.
Please raise a fault with your service provider, stating that the BT Performance Tester tool indicates poor service throughput performance after the third test.

Note the significant difference in download speeds. Also, not sure why upload dropped to 2.6, but there you go.
3. I next ran a test at ThinkBroadband's speed tester and got the following results: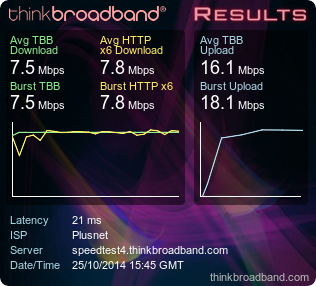 Any ideas why my line speeds are a) much slower than they should be and b) so variable?
I haven't logged a job yet because people seem to get faster answers here.
Topic Options
Mark Topic as New

Mark Topic as Read

Float this Topic for Current User

Bookmark

Subscribe