turn on suggestions
Auto-suggest helps you quickly narrow down your search results by suggesting possible matches as you type.
Showing results for 
Frustrating Fibre Problems
Topic Options
Mark Topic as New

Mark Topic as Read

Float this Topic for Current User

Bookmark

Subscribe
:

:

:

:

Frustrating Fibre Problems
Frustrating Fibre Problems
I will explain everything in case something is relevant.
Moved into new house in August 2014, 30 year old house. Changed from Sky in old house to Plusnet in this new home. Just standard broadband. Average speeds, around 3-6 Mb down on wifi. Had to keep restarting router as often got un-useable for things like Netflix etc. I had the router almost in the centre of my house downstairs, but was plugged into non primary phone line. So when we had a holiday in Feb 2015 I decided to have a new plug socket installed so I could use primary phone point. Probably totally irrelevant but a new kitchen was installed along with a light fitted in conservatory, new electronic items were new Dishwasher and Washer dryer.
From this point the connection was maybe slightly quicker but as soon as I was upstairs the connection dropped considerably, to around 0.5mb down and even less if someone was using Netflix upstairs. Connection from my iphone to router remained perfect at all times, but i tried a repeater in case, this didnt help. Changing the channel number would help a little for a few hours, but ultimately became unuseable again.
I decided to upgrade to Fibre foolishly thinking this would help the problem. It remained the same, however if I connect an ethernet cable to router I do get close to 80Mb download. I do a wireless speed test 2 metres from the router and get 5-10 mb down, even less sometimes. If I change channel I may get 30mb for an hour or 2. I have contacted Plusnet a number of times and they are very confident it is REIN which I do understand.
I bridged my old thomson router using powerline plugs and it has helped my upstairs reliability but still only 10mb in most cases.
But I feel I am forever having to check speeds, tweak channels, fiddle with the router, and still unreliable as anything. My house is relatively small, only 3-4 devices using wifi at a time, nothing downloading or uploading.
I have no idea what is in my house which could be effecting it, I have gone through things with the support guys and i am at the end of my tether. My brother is getting 110 MB down with his BT account and I am paying almost the same.
Any ideas? I am forever rebooting router, I have tried different thomson routers(when I had standard broadband) .
1 REPLY
Re: Frustrating Fibre Problems
Also since bridging when I switch my phone from upstairs router to new Sagemcom router it is never straight forward, and when I open laptop up (which is only ever connected to Sagemcom) it never reconnects straight away, I have to disconnect or a few other tweaks to get it to work again. I get this error on the pic attached on my laptop which is odd as it is not connected to this router shown. I jut did a wifi speed test and it is 7.36mb down, 15.39mb up and ping 33.88. I am 2 metre from Fibre router, nothing blocking signal.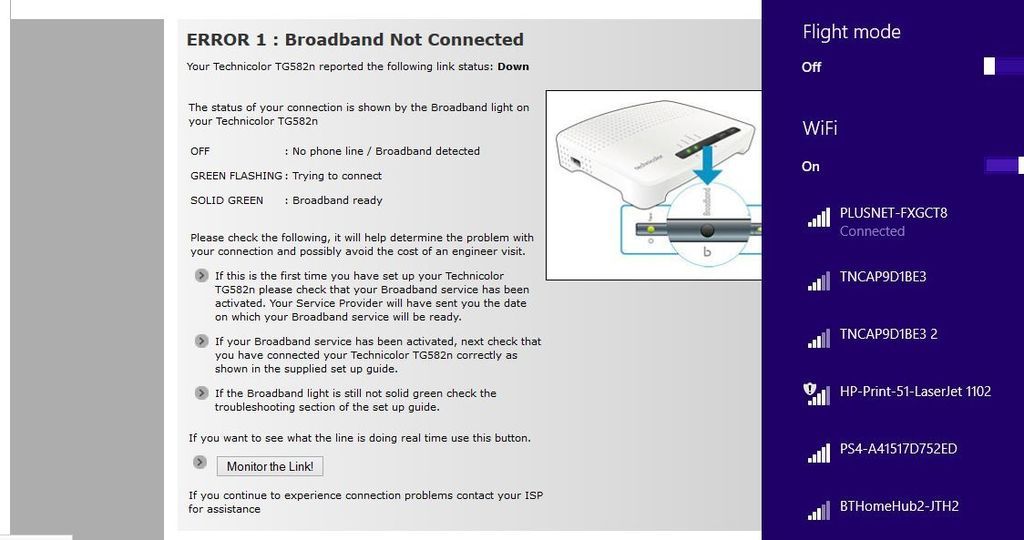 Topic Options
Mark Topic as New

Mark Topic as Read

Float this Topic for Current User

Bookmark

Subscribe
:

:

:

:

Frustrating Fibre Problems