turn on suggestions
Auto-suggest helps you quickly narrow down your search results by suggesting possible matches as you type.
Showing results for 
Topic Options
Mark Topic as New

Mark Topic as Read

Float this Topic for Current User

Bookmark

Subscribe
N/A
Is it me or has the help button up there gone into oversize mode?
11 REPLIES
Highlighted
It only said "HELP" last night-- it now says "HELP & SUPPORT"
It'll probably add "WIFE & 6 KIDS" next!
N/A
:lol: - I see -
N/A
Have you seen the buttons on the help page itself [must have had a revamp after the questionnaire they sent out]. Now they ARE supersized
The button has been changed to "Help & Support" but is seems that your browser has the old help button cached. Try clearing your temporary internet files and try again.
Roll up! Roll up!
Come and see the amazing evolving PlusNet!
Watch it change before your very eyes!
:lol:
Just FYI, this is how it should look:

N/A
Now if you could do it in Braille………now that would be an achievement ...... you know just so the blind can find help on the site too :lol:
benoh
Grafter
Thats what the "Alternative Text" is for :-) Its set to "Help and Support" on that image, any browser for the blind will read it out so it can be found.
Ben
N/A
Damm well there goes the image of ppl trying to read from the monitor using their fingers
N/A
Speaking of alternate text (not directly related to the header change, but i'm assuming the footers at f9/FOL changed at the same time)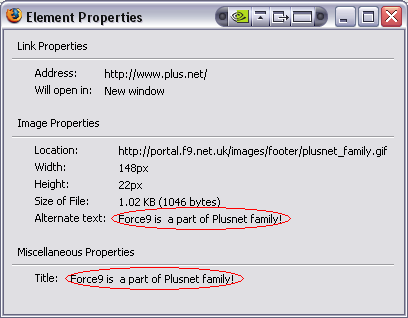 The english in the alt text is a little broken!
To the webteam I'd previously praised:
Proof read carefully to see if you any words out!
Cheers,
Andrew D Wiles
dave
Plusnet Staff
Thanks Andrew, I've raised that to the content team to correct it.
Topic Options
Mark Topic as New

Mark Topic as Read

Float this Topic for Current User

Bookmark

Subscribe