turn on suggestions
Auto-suggest helps you quickly narrow down your search results by suggesting possible matches as you type.
Showing results for 
ADSL: Using BT's Speed tester service
Topic Options
Mark Topic as New

Mark Topic as Read

Float this Topic for Current User

Bookmark

Subscribe
:

:

:

:

ADSL: Using BT's Speed tester service
Peter_Vaughan
Community Veteran
ADSL: Using BT's Speed tester service
ADSL: Using BT's Speed tester Service
This tutorial will explain how to use the BT ADSL speed test facility. This is a test often used by BT engineers when testing the speed on customer's ADSL connections. It basically tests the time it takes your system to download a file from a BT server and thus determines the effective transfer speed of your connection. This test differs from the normal Internet speed test that VISP full name and websites like ADSLguide have, as the test only involves the BT network and not your ISP.
Restrictions when using this test
There are a number of limitations when using this speed test:
While you are connected using the BT test login (see next section), you will not be able to surf the Internet or collect email, as you would normally do. This is because you are only able to access those systems and sites that the BT test login allows, and this is restricted to the BT speed test servers only.


This test is only available for IPStream based connections. If you are connected via a DSL Connect product, this test will not work as that uses a Datastream connection.


Like all speed tests, This one should be used as a guide only. Because this test only uses the BT network, it is only reporting the effective speed on that network and speeds available on the Internet may well be different and slower. There are lots of things that can influence your overall speed, local configurations on your system. ISP bottlenecks and congestion on the Internet itself and are often outside BT's or VISP full name's control. There are a number of tutorials and help pages available on the forums or VISP full name support pages to investigate the reasons why you may be getting a slow speed from this and other tests.


This Speedtest facility is still a Beta release from BT so it's availability may not be 100%. If you cannot connect to the BT speedtest website then please try again at a later date/time.
Configuring your ADSL modem / router
Before we can access the BT speed test server, you must first change the login details you have set in your ADSL modem/router. This will usually be something like username@f9.co.uk. If you are not familiar with this info I suggest you make a written note of the login username and password you currently have set so you can re-enter it after the test is completed.
Access your ADSL modem/routers set-up or configuration page containing the ISP login details and replace your current login with
speedtest@speedtest_domain
and leave the password field blank (BT require no password for the connection). Next restart or power cycle your router so it reconnects using the BT speedtest login. From this point on you will have no access to normal websites or email as the BT speedtest login can only be used to perform the speed test.
Accessing the BT speedtest webpage
There are two ways in which you can access the BT speedtest webpage. The first is using a URL and the second using an IP address. In order for the URL method to work, you need to change the DNS servers that your system is using from VISP full name to BT's so the URL is recognised. If your DNS IP addresses are server assigned by DHCP from your router, this can be done in several ways:
Reboot your PC – this is the simplest method

Disable and re-enable your network connection. For WinXP users this can be done by right clicking on your network connection (start -> control Panel -> network connections) and selecting disable. Then right clicking the icon again and select enable. For Win9x/Me users run the program winipcfg. Select your network device in the selection window, click release all and then click renew all.
If you have manually set your DNS servers, you must manually change them to use BT's DNS servers: 194.74.65.69 and 217.35.209.180.
For the IP address method, no changes are required to the DNS servers you use.
Once you have everything set-up and the correct DNS servers set (if you chose that method), bring up a browser window and enter the following in the address bar:
http://speedtester.bt.com – if you are using BT's DNS servers

http://217.35.209.142 or http://217.32.105.42 – if you are using VISP full name DNS servers
Sometimes the URL method does not work because it cannot find the IP address due to DNS lookup failures, so if it fails to find the webpage, use one of the IP addresses listed above.
You should then see the following webpage displayed: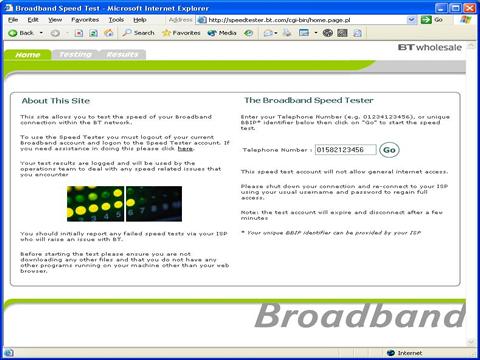 click on image for a larger view
Performing the speed test
Before the test can be run, you must enter your telephone number in the box provided. This is necessary so BT or your ISP can access the results of your test if you decide to report unacceptable line speeds. Once you have entered a valid telephone number, click the GO button to start the test.
You should then see the following webpage displayed: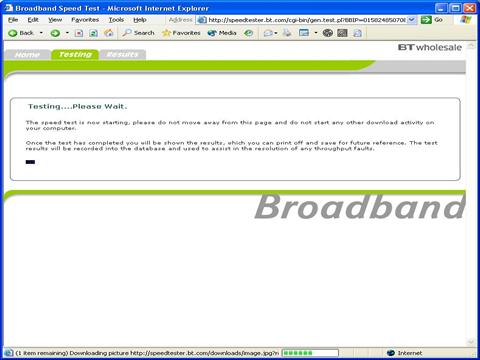 click on image for a larger view
The test progress is shown in the progress bar at the bottom of your browser and also by a small black square beneath the webpage text, that gets bigger as the test proceeds. The example screen above shows the test just over half way through the download.
Once the test completes, a test results page is shown similar to the following: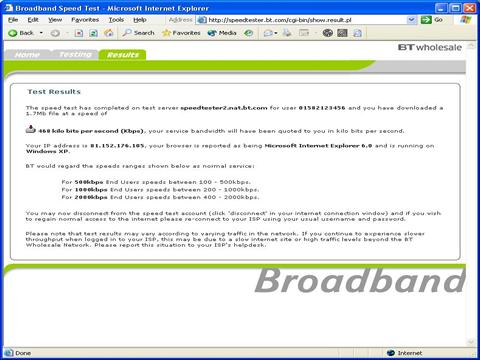 click on image for a larger view
There you will see your calculated download speed for your connection. Note: The IP address show is what BT has allocated and not the normal one you get from your ISP.
It is recommended that you repeat the test several times to give an average tested transfer speed. To repeat the test just click your browser's back button, which will take you back to the first page. Then just click the GO button again to repeat the test. Don't be surprised if the test results vary from test to test, this is not an accurate test as I explained at the beginning of this tutorial, but it will be more accurate than most due to it only using the BT network. You can try adjusting settings like MTU and RWIN, rebooting your PC and repeating the tests to see what settings are best for your set-up.
Restoring normal web and email access
Once you have completed running the tests and recorded or printed out the results of the speedtest, you must change your ADSL modem/routers login details back to what they were. You then need to reset or power cycle the ADSL modem/router so it reconnects using your normal login.
You should now be able to access websites and email as normal and you will no longer be able to access BT's speed test server.
Troubleshooting
While checking this test and capturing the screen images, I was not always able to access the BT test webpage using the URL or the IP addresses. Why this is I have no idea and if the IP address method for accessing it does not work then I suggest you try the test again at a later time – as I did.
There are a number of ways in which you can improve a low transfer speed by changing the MTU and RWIN values in Windows on the MTU value used by your ADSL modem/router.
DSLreports Tweak Test Page
is also a useful place to visit.
It is also recommended that you use several different speed test sites to get an overall idea of your ADSL throughput. Some of the more common ones are:
VISP full name Bandwidth Speed Test Page – Just click on connection settings under My Account in Member Centre.

ADSLguide Speed Test Page - also tests upload speeds

DSLreports Speed Test Page (US site so speeds will be lower)

Checking the speed when downloading a large file from VISP full name File Vault. Just click on the link under Tools in Member Centre.
That completes this tutorial and I hope it was useful to you.
Tutorial written by petervaughan
Topic Options
Mark Topic as New

Mark Topic as Read

Float this Topic for Current User

Bookmark

Subscribe
:

:

:

:

ADSL: Using BT's Speed tester service