Turn on suggestions
Auto-suggest helps you quickly narrow down your search results by suggesting possible matches as you type.
Showing results for 
Topic Options
Mark Topic as New

Mark Topic as Read

Float this Topic for Current User

Bookmark

Subscribe
matiushu
Dabbler
I have been suffering intermittent Internet outage for past 4-5 days but wasn't able to investigate until today.
Finally logged a call with plusnet today and the support engineer fobbed me off with a data transfer issue between my router and wireless devices. This was even after I mentioned it was happening on my wired PCs. So the usual advise like look at isolating the router. I have yet to find a fault with my router everytime PN tell me to investigate that.
I did notice that pings and tracert was intermittent when the PN engineer was talking me through fault finding, but at no time did he mention this outage on 10/09/15 - this is annoying.
I have just changed to use Google DNS servers and haven't had an outage for a while now.. Have kept one device using PN DNS servers to monitor the service.
I don't think the issue is fully resolved by PN and I am annoyed the engineer did not let me know about this issue.
Highlighted
This issue is just another issue on top of another issue thats been ongoing since End of last year and since then has got worse... IMO it is related to causing the issue recently...
So this "the issues is resolved" nonsense is just bull!
Highlighted
legalfreak
Dabbler
Well, since the outage of a few days ago my router is disconnecting me from the internet on a regular basis, then reconnecting me. I live in the Borehamwood/Elstree area.
Have no idea what is going on but service is clearly crap.
Highlighted
Well I just noticed some "extra" irregularities in my browsing so runs some tests...
Not looking good vv.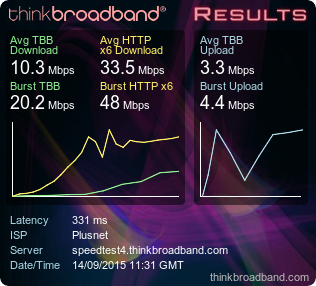 Should be..
Highlighted
tijara33
Community Veteran
Highlighted
Mines back to normal now...
Highlighted
puffin
Grafter
Mine's not.
Still really slow - especially the Member Centre - and frequently getting timeouts even when connecting to sites like Google Maps and Twitter.
Highlighted
Oh no thats not fixed... the speed tests are back to normal (full seed) but browsing is terrible as you say!
Highlighted
gofaster
Rising Star
My knee has started hurting since the outage. Coincidence? I don't think so!
Highlighted
Anotherone
Community Veteran
As I've mentioned elsewhere, I was away and missed all this (thankfully). However, a big disappointment that Plusnet's comms were so bad, again failing to communicate relevant information to it's customers in a timely manner.
Whilst the defense of Plusnet in the time taken to resolve this major outage (lorisarvendu) was fair and reasonable, the context did ignore the communication shortfall which obviously annoyed some posters, and many consequential responses I feel detracted from two important posts made early in the thread, the 2nd quoting the first
Quote from: martinu

Quote
Just rang the PN service status line ( 10:28am), as usually no one has bothered to put the issue on there , why?
What a great feature especially , when you can not get a service status up on the website. Yet PN choose not to use out , or promote the number to customers . 0800 9176714
This has been brought up numerous yet PN do nothing


Yes I keep telling PN about this issue whenever I report a problem with their servers etc - that they MUST be a LOT more pro-active with updating their Service Status page with precise details of faults, as soon as they are reported and identified as being a genuine problem rather than user error.
In the past when I've mentioned this, they come out with lame excuses like "we'll change the status when we've identified what the problem is", which is far too late. Users want to know "Is everyone having a problem, or is it just me", even though the cause of the problem hasn't yet been identified and a fix isn't yet being worked on.
I get plenty of status emails most days about local broadband outages and intermittent loss of access to PN's web servers (I signe up to their email alerts) but when something really big happens, there's no email and nothing on service status.
These days, it's hardly worth checking Service Status because it almost certainly won't list faults which I know exist. This Community forum is probably a better place to look. Makes me wonder why they have the Service Status on the Portal.
OK, I know that today's problem has affected the Portal as well, so you can't even access Service Status any more, but when I first noticed the problem at about 08:15 and was trying rebooting router, changing to a different router etc, Service Status *was* accessible and listed no faults, even though by then Bob Pullen had responded to one of the threads on this forum to say that the fault had already been logged on an internal PN system. The fact that it was logged internally should have set in motion a process for announcing the problem on all the standard places that customers will look when there is a problem.
Everyone has problems and service outages from time to time, and I'm sure the technical guys are working hard to fix them However PN need to make dramatic improvements to how they keep customers informed of progress and any workarounds (eg the 8.8.8.8 DNS server fix).

This poor state of affairs was not helped by the following -
Quote from: AndyH
At the end of the day though, knowing the technical details of the outage provides very little or nothing to most people. It might be interesting to know, but you don't gain anything from it.

As another poster said - "you speak for yourself".
Also -
Quote from: Townman
Understandably there has been much said about the general lack of communication about this failure. A number of suggestions have been made, a number have merit, but (I suggest) in a the case of a major outage have limited benefit.

another matter of opinion with which I strongly disagree.
If customers are not given any information, especially when it's a major outage, they can waste a lot of time thinking it their own equipment and connection and attempting reconnects, equipment swaps and etc before discovering that's not the case.
The Service Status Phone Line is the back up where on-line Service Status is not available because of such an outage. It should always carry current Service Status information and should be promoted (last time I looked, not even mentioned on the website). It usage could also reduce the number of calls to CSC.
Information helpful to customers would for example be "We have a major outage with our network and/or peering which will also affect DNS. Whilst changing DNS settings or Gateway or just rebooting your routers may work for some customers, there is no other known workarounds that we can suggest at this time, for which we apologise. As this is a major outage of unknown cause at this time, it will take some time to recover and we will update this Service Status as soon as more information is available and again apologise for any inconvenience that this will cause."
Such a statement means those users that require urgent Internet access would know to go and try somewhere else locally, or use a mobile network and not otherwise waste time fiddling with their own equipment or connection. Others would just sigh and get on with something else in their life until later.
It seems such common sense does not occur to Plusnet (or some posters here)
Topic Options
Mark Topic as New

Mark Topic as Read

Float this Topic for Current User

Bookmark

Subscribe