turn on suggestions
Auto-suggest helps you quickly narrow down your search results by suggesting possible matches as you type.
Showing results for 
Weird BT Service Information web page
Topic Options
Mark Topic as New

Mark Topic as Read

Float this Topic for Current User

Bookmark

Subscribe
:

:

:

:

Weird BT Service Information web page
Weird BT Service Information web page
Hi all,
I've been plagued with the following webpage this afternoon, I've had it a few times before today recently, but today it's been very frequent.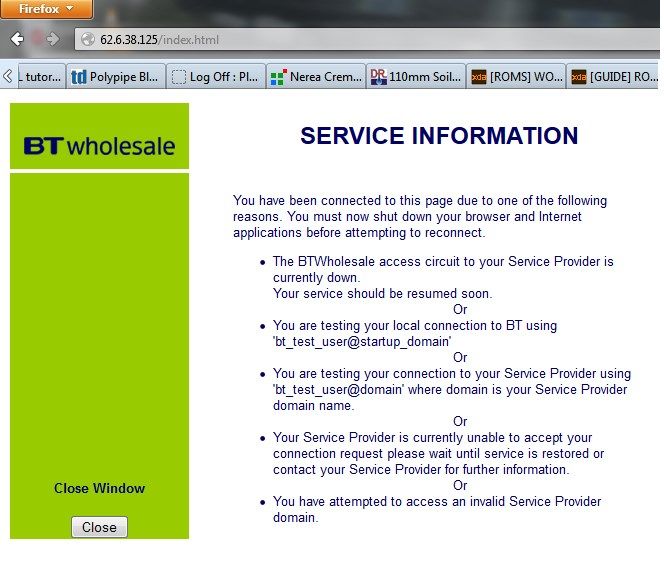 It seems to affect all the computers in the house, and my mobile (via my wi-fi).
Sometimes it will happen all the time, whichever web pages I open, other times it only seems to affect certain web pages
Also stops Thunderbird collecting/sending email.
Anybody any idea why I'm getting this, anybody else been suffering or just me?
Edit: Just found a bit more information
here
, sounds a bit worrying.
Edit: And another
more relevant one as it involves Plus Net.
2 REPLIES
orbrey
Plusnet Alumni (retired)
Re: Weird BT Service Information web page
Hi Ronski,
We've seen this before with some routers, believe the ones we've seen have been Netgear related. Basically, it remembers all the DNS servers it's been issued for a given connection - even when given new ones (if there's a brief interruption that doesn't show as a drop, for example).
If the query to the current DNS servers fails, it falls back on previous ones. If you've been issued the BT DNS servers at some point, due to connecting when there's maintenance on or something, the router will eventually make a DNS query to those and that's why you get the pages.
If it is that, there's a couple of ways you can fix it. Either reboot the router (which means it may happen again) or manually assign the DNS servers in the router's interface (which should stop it from happening).
Hope that helps explain.
Re: Weird BT Service Information web page
It is a netgear router, I'll set the dns servers manually. Thanks.
Topic Options
Mark Topic as New

Mark Topic as Read

Float this Topic for Current User

Bookmark

Subscribe
:

:

:

:

Weird BT Service Information web page