turn on suggestions
Auto-suggest helps you quickly narrow down your search results by suggesting possible matches as you type.
Showing results for 
Topic Options
Mark Topic as New

Mark Topic as Read

Float this Topic for Current User

Bookmark

Subscribe
jelv
Community Veteran
Thinkbroadband speed tests are odd tonight - I'd normally expect to see around 6.7mbps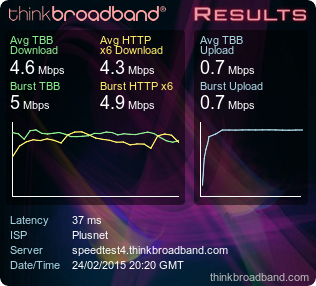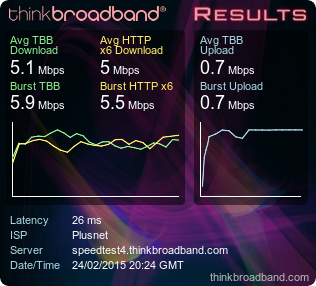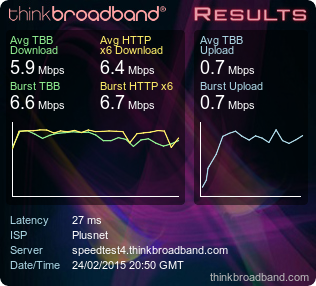 Speedtest.net and BT's test are near normal. IP Profile is nailed on 7.15 as normal, portal current line speed is the same. Tests conducted wired.
Router stats are excellent as normal:
Uptime: 23 days, 0:53:33
DSL Type: ITU-T G.992.1
Bandwidth (Up/Down) [kbps/kbps]: 832 / 8,128
Data Transferred (Sent/Received) [GB/GB]: 3.11 / 12.70
Output Power (Up/Down) [dBm]: 12.5 / 20.0
Line Attenuation (Up/Down) [dB]: 11.0 / 20.0
SN Margin (Up/Down) [dB]: 13.0 / 6.5
System Vendor ID (Local/Remote): TMMB / ----
Chipset Vendor ID (Local/Remote): BDCM / TSTC
Loss of Framing (Local/Remote): 36 / -
Loss of Signal (Local/Remote): 4 / -
Loss of Power (Local/Remote): 0 / -
Loss of Link (Remote): -
Error Seconds (Local/Remote): 256 / -
FEC Errors (Up/Down): 0 / 0
CRC Errors (Up/Down): 246 / 263
HEC Errors (Up/Down): - / 231
This is a normal test for me:
5 REPLIES
Topic Options
Mark Topic as New

Mark Topic as Read

Float this Topic for Current User

Bookmark

Subscribe