Turn on suggestions
Auto-suggest helps you quickly narrow down your search results by suggesting possible matches as you type.
Showing results for 
Plusnet Pro Addon lower Throughput
Topic Options
Mark Topic as New

Mark Topic as Read

Float this Topic for Current User

Bookmark

Subscribe
:

:

:

:

Re: Plusnet Pro Addon lower Throughput
iruhaku
Dabbler
Plusnet Pro Addon lower Throughput
Hi, I just recently upgraded to the pro add on about 12 hours or so I was getting 15+mb (15-15.5 using speedtest.net, TBB and bt speed tester) since I upgraded its been 14mb always 14mb. (wired) seems to be a case of slightly better ping (1-2 ms on my game which isn't on the list) or getting 1.5mb extra. I thought it wouldn't effect throughput and it may actually increase it in some circumstances but this has not been the case. I don't understand how this could change it as i thought it was just prioritisation (less dropped packets due to congestion etc).
Line stats as follows
5 - Mode ADSL
6 - Uptime: 0 days 00:28:44
7 - Data rate: 1279/17923
8 - Maximum data rate: 1288/18132
9 - Noise margin: 6.0/3.3
10 - Line attenuation: 16.4/29.0
12 - Data sent/received: 4.7M/81.7M
BTW
1. Best Effort Test:
Download Speed : 14.04 Mbps
2. Upstream Test:
Upload Speed : 1.09 Mbps
Current
Previous
TBB
Current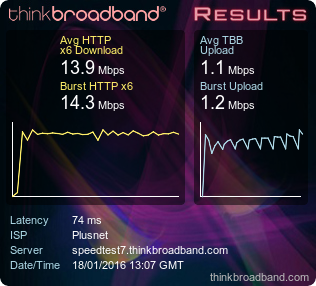 Previous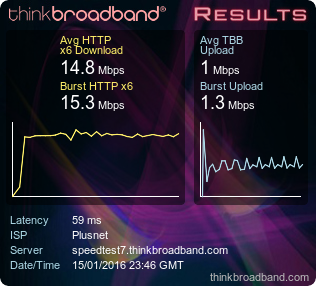 Rather disappointed at the moment considering its £5 a month extra for less speed and almost negligible improved ping.
I tried the further diagnostics on btw but i get this message "Your speed test has completed and the results are shown above, however during the test an error occurred while trying to retrieve additional details regarding your service. As a result we are unable to determine if the speed you received during the test is acceptable for your service. Please re-run the test if you require this additional information."
I see no other reason for the speed decrease as my sync rate is marginally higher than it was ( i reset it today to see if it would improve speed) previous sync was slightly lower (negligible) 3 days sync and beofre that it was the same at 6 days sync.
Really confused and any help would be appreciated
Topic Options
Mark Topic as New

Mark Topic as Read

Float this Topic for Current User

Bookmark

Subscribe
:

:

:

:

Re: Plusnet Pro Addon lower Throughput